To be honest, this question, while a common one, is difficult to answer accurately. 
Everyone who undertakes a project and is looking to hire someone to do some or all of it, wants to know "How much will it cost?" And this is a legitimate question since costs like this are necessary for planning purposes, establishing a budget, and determining what can or can't be done with the budget limits.
However, landscaping encompasses a wide range of tasks and project types. 
Some landscaping work has a limited scope, such as installing a gazebo, installing sod, or removing a tree stump. Other projects can include design, planning, and renovating an entire outdoor space of a home or commercial property.
So, an understanding of how landscapers charge for their services is important.
How Landscapers Charge for Their Work
The cost of landscaping services depends first on the type of work being done. For example, as the website at HomeGuide notes, 
"For small jobs such as lawn care or tree service, you can expect to pay $50 to $100 per hour. For larger jobs such as installation, prices range from $4 to $12 per square foot."
Keep in mind that their figures are based on national averages and actual costs can vary significantly depending on location, among other things. And note that, depending on the nature of the work, pricing is either based per hour or per square foot.
HomeAdvisor offers a range of typical landscaping costs based on the amount of labor required, or $4-$6 per square foot for "basic services" to $10-$40 per square foot for what they term as "Full Tear Out and Remodel." work.
A third site, Fixr.com, provides a range for landscape on a new construction that includes professional designs, new soil, grading, grass seed, plants, patio, and walkway. They list the cost range as 
Low $3,000

Average Cost $14,000

High $30,000
While all these averages and range of costs are certainly helpful, they are still only a rough guide for what to expect for any landscaping cost.
What Landscapers Charge and How They Charge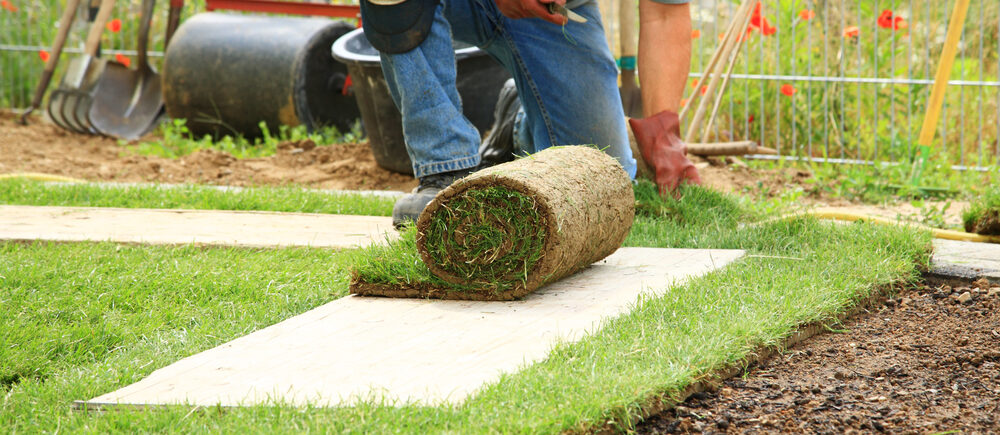 Landscaping, as we noted earlier, is a broad term that can comprise a vast range of projects. This mix also means a wide range of associated costs per square foot. Even one landscaping project may incorporate different cost factors that can alter any presumed "average cost per foot' depending on what is required, added, changed, etc. 
A typical project will mix materials and types of landscaping work across one property, which means that the overall cost per square foot is likely to be the sum of each element. For example, you may have new topsoil put down at a certain price per square foot, with new seed added at another price per square foot, and then fieldstone pavers that cost far more than the topsoil. 
Let's assume, too, that you are adding water features, stone structures, and various plants, as well. All these elements change the overall cost per square foot, which currently tends to be in the range of $5 to $20 a square foot, depending on the location and type of landscaping.
According to one source, the average cost that homeowners paid in Sonoma county for what it termed as a "curb installation" was between $1,391.00 and $1,646.00 in 2020. 
These costs include:
$6.00 to $8.00 per linear foot material costs.
Average labor costs to install landscape curbing.
Average costs for materials and equipment for landscaping.
All project costs (surface preparation, components, and machinery), and cleanup fees.
And Then There's Landscape Design and Architecture… and More
One of the main elements behind a great looking landscape is the planning.
For many landscaping projects, elaborate landscape architecture isn't always necessary. A landscaping professional can help you maximize your landscaping budget and provide expert help with your landscape planning. The cost of services from a landscape pro can range from $50 to $150 per hour.
Landscape architects, on the other hand, can help create the most interesting and beautiful designs that stay within your budget.
According to the American Society of Landscape Architects,  
"They will assess your property's problem areas as well as possibilities and create a solid plan that addresses both the big picture and exact details of how your landscape will look. They will also help you select the perfect materials, styles, textures, and colors for your landscape project. A landscape architect will handle all the details, saving you time and stress."
Landscape architect services typically run between more than $150 per hour.
While landscape architects typically work on larger or commercial projects, landscape designers usually work on residential and smaller projects. Note, too, that although they can help you decide on the placement of a water feature, or what types of plants to put in, not all landscape designers will help with the installation. Normally, landscape designers charge somewhere between $50 and $150 per hour. 
Next Steps for Your Landscaping Project
If you're looking to revitalize or completely change the landscaping at your home or place of business, don't hesitate to contact us with any landscaping questions you may have.
We know that creating the best look for your outdoor space is important to you and we're here to answer any questions you might have about getting started on your landscaping project.
Get ready to spend more time enjoying your outdoor space with family, friends, and visitors!
If you're ready to begin, or you'd like to schedule a consultation about your garden or landscaping project, contact the professional landscape designers and plant installers at Northview Landscaping today.